THE GAME : ABOUT US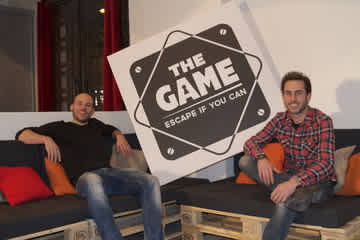 2014 | The Game, it is the story of…
Maxime & Maxime, it's the story of two young men who just graduated from university and discovered Escape Games while they were travelling across Europe. They were amazed and intrigued by this new experience, which inspired them for a new adventure. They decided to take the chance they had and launch the concept in their country. The new ambition they had at the time was to share what they discovered: a common passion!
With assurance and determination, Maxime & Maxime decided to work fast: find economical partners and a unique and ideal place. At the same time, they developed and created their 3 first missions' stories. Smart, malicious and inventive but also 100% home-made, the Maxime & Maxime's 3 first missions are recognizable for the unexpected they offer. After a lot of work, they finally found the place to set their stories: an "art deco" building with 170m2. Right away, they decided to engage professionals in movie settings who helped them build the realistic and great decors. But, as reality is never enough, they also had the help of magicians, illusion experts, to create a unique atmosphere. It is for all these reasons that The Game's missions are special: they associate settings realism to amazing illusional decors.
Then comes the big day: The Game opens its doors the 19th of December 2014, offering to players hungry for sensations, 3 original stories: The French Robbery (just like a real-life secured bank), The Kidnapping (an absorbing investigation in the Paris of 1950s) and the Catacombs (an hectic but exciting journey).
2016 | Very quickly, The Game is growing…
In spit of the premises area, Maxime & Maxime started to feel crowded. The legend tells that while renovations work was conducted into the Catacombs, they discovered, behind a secret door, a secret access to an empty place of 500m2! The fate was on their side and Maxime & Maxime decided to enjoy this opportunity to enlarge the company and took a pen one more time, to design 3 new original missions! From 170m2 to 750m2, The Game expanded to many more players with 6 original themes spread on 9 room: The Metro, The Casino Heist and The Templars' Treasure. The Game finally became as big as its 2 founders' imagination.
2017 | The Game pursue its evolution and so does its team!
Nothing can stop them: Maxime & Maxime push the immersion even deeper by fitting into the premises… a plane! The Game now counts 7 missions over 10 rooms. In front of this great playground, Maxime & Maxime surrounds themselves with a team of dynamic and motivated Game Masters to be the guides of all the mission offered. As a true family, its members expanded over the months and The Game constantly look for new and diverse personalities, something eccentric and surprising but always cheerful. Today, it's more than 50 Game Masters, carefully trained for the players' pleasure and an immersive and interactive experience!
2019 | To infinity and beyond
To infinity... because, this time, the Maximes decided to send players into space with an 8th mission.. a space mission. This mission is taking place within the last free area The Game had. However, Max and Max still have a lot of ideas and many playgrounds to explore... What can we do from this? Push the walls? It's already done... Open a new place? They like challenge, then, it will be delightful... with time and much work! Here we go again with an additional 800m2 area and yet, the announcement of an 9th mission, an Earthquake and the exact replica of a parisian street.. indoor!
2020 | Behind our masks, we hide smiles!
It is no news to the world but 2020 was a very, very… very long year! For the first in The Game existence, our doors were closed several days… and several months too. It has been hard, but we never gave up and we believed in our lucky star. These confined times allowed us to think and work on new rooms that will see the light of day when we reopen…
2021 | Popcorns and a good old western
2021 is the symbol of our awakening after a long, forced sleep. It is not with one, but with two creations that we are coming back! We now offer 11 themes and 19 rooms.
To start, if you remember it, The Game opened a new location in Saint Michel on an old movie theater's ruin. This is an amazing story because The Game's new room is all about reproducing a real cinema! And for old black and white movies' amateurs, we decided to open our largest room ever created with The Far West.
The Game today, it is 80 passionate people… and the adventure continues!
Dramatization + immersion = a unique and 100% original experience
The Game simple motto: I-M-M-E-R-S-I-O-N
Every mission is taking you by the hand and lead you into a rich and consistent narrative. Like in a movie, everything was designed and elaborated from the settings realism to the Game Masters enthusiasm. It is not a question of game but a question of missions, all undeniably immersive!
If you are coming to rob a bank or a highly-secured casino; to explore the dark Parisian Catacombs or the Middle Age questing for the Templars Treasures; if you give yourself to save a broken Metro and avoid a terrible catastrophe; if you use your brain to save a young kidnapped dancer; we will do everything we can to dive you with intensity, in the heart of your mission!
In teams of 3 to 5 persons, with family, friends or colleagues, you will use your deduction sense and your ability to work in team. For achieve your mission, you only have one hour: think and move quickly! But we assure you, The Game will not let you down in the danger, your Game Master will follow your progress and will help you through cameras and microphones, steering you via messages.
One Team – One Mission – One hour: are you ready?
An immersive experience via dramatization and 100% realistic settings (designed with amusement park professionals and magicians)
Logical and surprising missions, based on the storytelling richness and the mechanisms' originality

A warm and sincere welcome and a dedicated support to help you get trough the mission